i keep thinking things like 'oh man it's gonna be so great when i've handed in this assignment and i can just watch the walking dead and write caryl fic and be so happy' and just forgetting the bit in the middle, where i actually have to write the assignment
i finished gone girl and oh wow it's so good!! i haven't seen the movie yet but the book is very cool. you should read it probably. you.
What You Get:

One copy of Down in the Willow Garden, hand-bound by me. 500 pages long, fully illustrated. Autographed by Norman Reedus, Melissa McBride, and (if anyone cares!) myself.

How You Get It:

Reblog this post before 11/20/14 at midight, EST. Multiple reblogs ARE allowed.
You must be following me at the time of the drawing. I want someone to have this who appreciates the story—not just the signatures.
You must be willing to provide a valid mailing address. International addresses are fine with me!

You must have the "ask" feature available for me to contact you. I will select the winner by random number generator. If that person does not provide a valid address in five days (by 11/25/14 at midnight EST), I will select another winner in their place.

Signal boosts from staff-run (as opposed to personal) Caryl/TWD/Reedus/McBride fan blogs would be appreciated. Don't worry—I can remove those reblogs from the drawing to prevent a skewed result.

Good luck!!!!!
An Archive of Our Own, a project of the Organization for Transformative Works
Hello! So this is my first attempt at Caryl fic. It's a Cold Mountain crossover type thing, if you know that book/movie. If you don't that's fine, it's basically a civil war au. Please let me know what you think, i'm actually really nervous about posting this and i'm usually not so it'd be nice to hear like…words. Thank you!
me: *waves at a dog being walked*

dog's owner: *waves at me*

me:
favourite pictures of Ben Whishaw: 90/100 

(+ Romola Garai & Dominic West)
number of words written for my 2200 word research essay due tomorrow: 0
number of words written for my planned cold mountain/civil war caryl au: 3000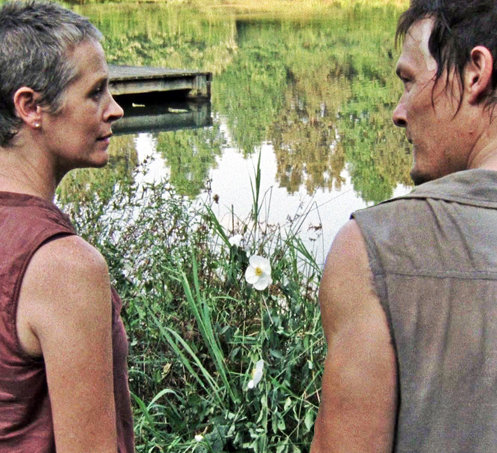 Daydreaming  I  Dark Dark Dark
Oh if you knew what it meant to me / You would see too
I Can't Take It  I  Tegan and Sara
So move, don't move so slow
Spent Gladiator 2  I  The Mountain Goats
Like the one who stands behind him / cheering him on / ecstatic when he stands defiant / wild with abandon when he's gone
Kingdom Come  I  The Civil Wars
Run, run, run away / buy yourself another day
Towers  I  Bon Iver
I'd a tore your hair out just to climb back darling
Like a Songbird That Has Fallen  I  Reeltime Travellers
Like a songbird that has fallen / Only to regain the sky / From this frozen shadow valley / They must be revived
Rest in the Bed  I  Laura Marling
Know that its you and I til the end / And all I want from life is to hold your hand
Shelter of Your Arms  I  The Greenhornes
Asking you to hear my pleas / I need the shelter of your arms / Wanting to spend my days / In the shelter of your arm
Ada Plays  I  Gabriel Yared
(instrumental)